Bichpoo (Poochon) Puppies For Sale

This adorable litter was born on 08/25 and will be ready on 11/03 $1050
Gabriella - RESERVED
Grant - AVAILABLE
Grayson - RESERVED
George - RESERVED
The Poochon (Bichpoo) is a happy-go-lucky hybrid that is well-liked by their respective owners. Their willing-to-please attitude and sharp mind makes them easy to train if consistent methods are used. Their loyalty to their family makes them an excellent lifelong companion and wonderful lap dog. They adjust quickly to different lifestyles from apartment life to hiking in the great outdoors. Bring home this popular favorite today and experience the joy they bring for yourself!

Size: Our Bichpoo puppies average in size from 6-10 pounds as adults.

Coat: The Bich Poo has a soft, curly coat. Most Bich Poos have little dander and do not shed, making them a good match for those with allergies. Owing to its Poodle heritage, the Bich Poo comes in a wide variety of solid or mixed colors. White and apricot are most common; other colors include gray, black, and chocolate. The Poochon may be groomed like a Poodle or with a fluffy Bichon style, or given a shorter, low maintenance 'puppy cut'.

Character: The Bich Poo is sensitive, responsive, and affectionate. Bich Poos love to play and have a seemingly endless supply of energy, though they are not as hyper as some breeds and are happy to curl up on the couch for a nap. On the other hand, Bich Poos may have sudden spikes of energy which cause them to run wildly around the house, like the Bichon Frise. The Bich Poo is very intelligent and clever; it has a habit of entertaining its owner with clever tricks. Bich Poos make good watchdogs.

Temperament: The Bich Poo is friendly toward strangers, children and other dogs. Bich Poos are great companions for kids, but should be supervised around young children to prevent them from teasing the dog or playing rough. Since the Poochon is a hybrid, it may exhibit characteristics of both the Bichon Frise and the Poodle.

Care: The Bich Poo must be brushed regularly and groomed every two to four months, depending on grooming style. Bathe only as necessary. The Bich Poo has a lifespan of 12-15 years. The Bich Poo may be susceptible to health problems affecting the parent breeds, such as allergies and eye cataracts, but as a mixed breed it is somewhat less likely to suffer health problems than purebreds (known as 'hybrid vigor').

Training: The Bich Poo is intelligent and therefore easily trained. The Bich Poo can learn a variety of tricks and behaviors very quickly. The Bich Poo enjoys working with its owner and requires a consistent training approach.

Activity: The Bich Poo is an active dog requiring daily exercise such as a walk, playtime in a fenced-in yard, or a visit to the local dog park, though it can meet a lot of its exercise requirements through indoor play. Most Bich Poos enjoy swimming. Bich Poos are great dogs for an apartment or condo.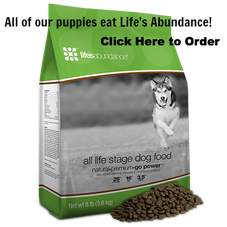 ---
Shipoos Born September 26th

This beautiful litter was born on September 26th and will be ready for their new homes at 10 weeks on December 5th. They are up to date on vaccinations, on a regular deworming schedule, vet checked and health certified, and with our comprehensive health guarantee. They are started on potty training and doing very well. They should be a breeze to finish house training. This litter should mature to 7-10 pounds as adults, but some of our Shipoos have been as small as 5 pounds as adults. A $200 deposit will hold the puppy of your choice until they are ready to go home. We do offer shipping or delivery for an additional fee.

Price: $800 (plus $48 tax)

Ava - Female - AVAILABLE
Abby - Female - RESERVED
Allie - Female - RESERVED
Amber - Female - RESERVED
Anne - Female - RESERVED
Arya - Female - RESERVED
Alex - Male - RESERVED
Apollo - Male - RESERVED