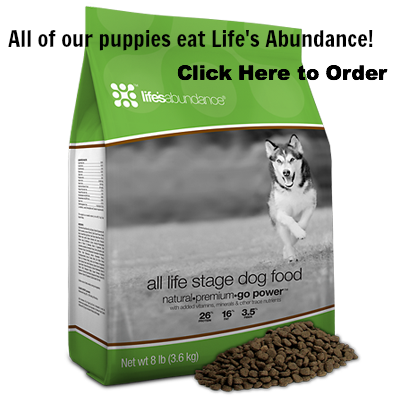 Life's Abundance recipes are formulated with select ingredients to help your puppy grow and thrive. With Life's Abundance, you can be confident that you're feeding advanced nutrition to help your puppy achieve and maintain optimal health.

Made for small and medium breeds, All Life Stages kibble for adults and puppies is made with the finest ingredients, including...

• A proprietary blend of vitamins & minerals
• High-quality protein from chicken meal for strong muscles
• An antioxidant system including vitamins C & E
• Prebiotic fiber & guaranteed probiotics
• A selection of nutritious vegetables
• Omega-3 fatty acids for healthy skin & a shiny coat
• Calcium & phosphorus for healthy teeth and strong bones
• Dietary fiber to help maintain a healthy digestive tract

Specially formulated using only wholesome ingredients, this food contains …

• No artificial flavors
• No artificial colors
• No corn or corn glutens
• No wheat or wheat gluten

Give your puppy every opportunity for a long, healthy and happy life. Feed Life's Abundance and watch your young companion animal thrive!
Fresher food is more nutrient-rich. While other large brands stockpile tons of food for months on end, this healthy dog food is made weekly in small batches so it's only 4-6 weeks from production when it is delivered to your doorstep. When you buy this Life's Abundance dog food, your sweet new pup will benefit from strict inventory controls and product safety considerations that are second-to-none. Put your new puppy on the path to wellness. Provide them with a recipt for a long and happy life.

**Life's Abundance is required by Shade Mountain Kennel for your new puppy's extended health guarantee. Be sure to order this food before pickup up your puppy, if possible. Follow the ordering instructions below. This food is not available in stores and only available to the general public with the recommendation of an authorized pet professional.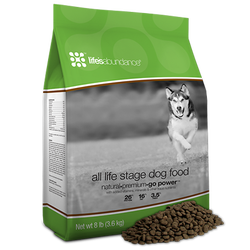 You can order by clicking the link above. You MUST order through Shade Mountain Kennel's site in order to receive the benefits of the extended guarantee. When you order through our site, Life's Abundance notifies us that you are ordering and keeps records for guarantee purposes. The direct link to our Life's Abundance page is www.LifesAbundance.com/ShadeMountainKennel.

This kit listed here contains everything you need to give your small/medium breed puppy a healthy start in his/her new life with you. While this kit is not required for your guarantee, we do highly recommend it. Click the link above to be directed to the ordering page for this kit!

Healthy Start Pack


Get your pint-size pooch off to a healthy start. Dr. Jane Bicks, our veterinarian formulator, chose each product in our Healthy Start Pack for small and medium breed puppies for a specific reason. Each Pack contains a

Life's Abundance Premium Health Food (8 lb. bag)
Life's Abundance Wellness Food Supplement (30 tablet bottle)
Antioxidant Health Bars (12 ounce jar)
Tasty Rewards Training Treats (4 ounce bag)
Buffalo Bully Sticks (6 6-inch sticks)
Ear Care Formula (4 ounce bottle)
Revitalizing Shampoo (12 ounce bottle)
Bath Fresh Mist (8 ounce spray bottle)

The Healthy Start Pack also contains "Putting a Premium on Pet Health" DVD absolutely free. Best wishes for years of good health, happiness and hugs.