Here is a link to our feedback on puppyfind
CLICK HERE
You can also find reviews on Yelp :-)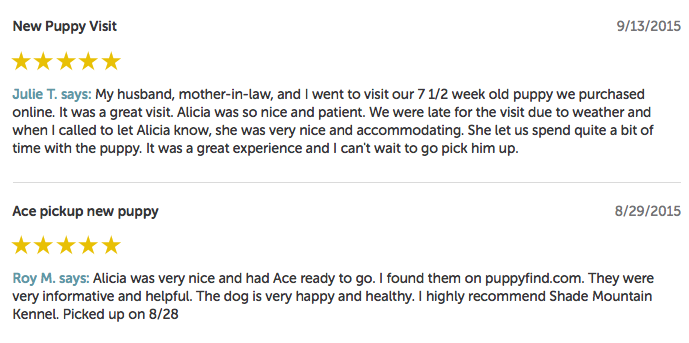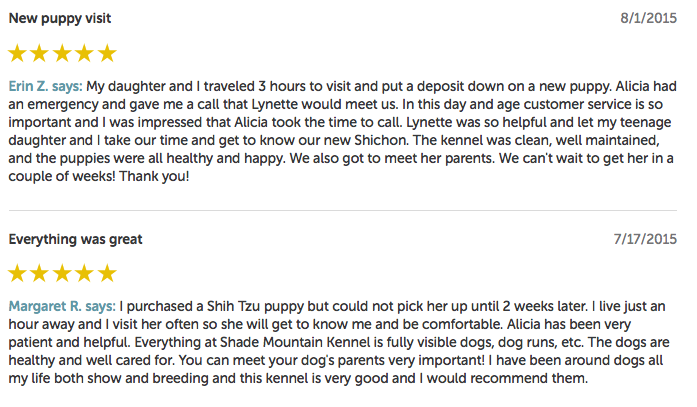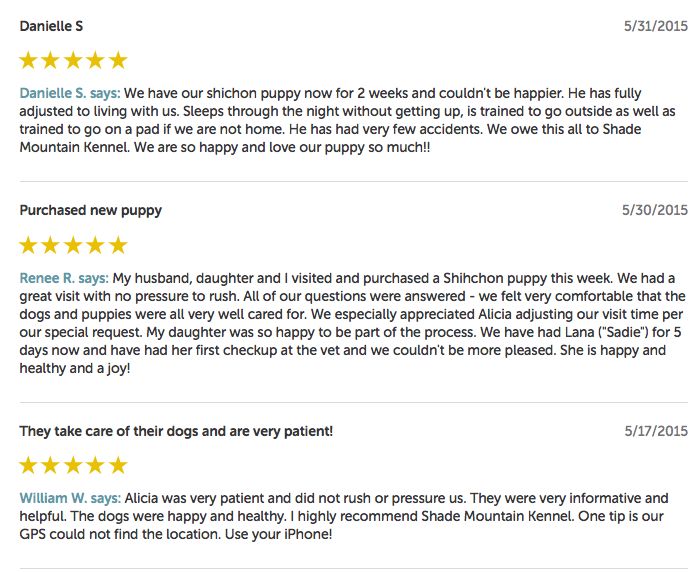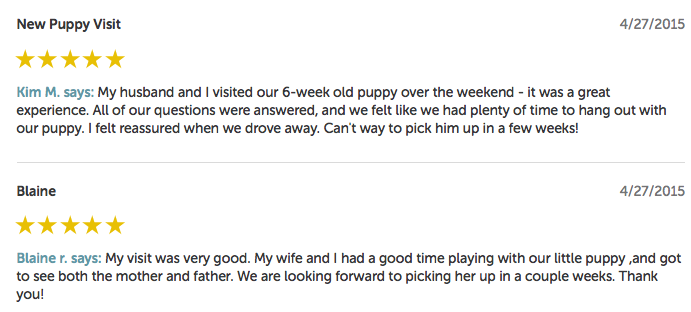 Here are a few of the emails from happy new 'parents'...
Shade Mountain Kennel Testimonials and Reviews:
February 2015:
We have had Morgan for 4 yrs now and she is the best pup ever. She's a social dog, loving and wants to meet everyone she comes in contact with.
Noticing this quality in Morgan, my husband, a Las Vegas Firefighter, decided to look into therapy dog training. Morgan and Tim are now regular
visitors at our local hospice and hospital. Thank you for a wonderful dog.
Amy
February 2015:
A year ago today we picked up our puppy from you. His name is Brady and is very loved. We are enjoying him and he has become a loyal companion. Just wanted to share a "grown up" picture of him with you. He surely has grown!
Regards,
Stephanie
February 2015:

Hello! We bought our girl Bagel from you in April 2012 (her name was Rosie). She will be three this December and still makes us laugh every day. She LOVES to cuddle, and is wonderfully patient with children. She is truly a member of the family! We have even discussed the possibility of adopting another puggle or mini bulldog from you so that she can have a playmate! You may be hearing from us again soon!
Thanks again!
Kathy Maxwell
January 2015:
Hi, Alicia,
Sorry for the delay, but I wanted to give you an update on Sadie. She's perfect! We are so in love with her!!! She had her first vet visit last Monday, and everyone one was so in-love with her, too and I can't blame them. She has a great personality, and has her spurts of high energy, but in general is pretty mellow... I took her to the groomer today, and the groomer said that Sadie didn't fuss at all, and let them do anything they needed to do with her. She just got a little trim and groomed around the eyes and bottom. I picked her up with a pretty pink bow and scarf. Cuteness overload!
She's learning to sleep through the night, but there are times she gets up around 4:30 to go potty. I place her back in the crate right after she does her business, and she generally stays in/sleeps till we're up for the day. Potty training has been the most challenging, but we'll get there... eventually. She's so silly, sometimes she'll just squat for a few seconds and not pee, but look at me like she should get a treat. lol. I don't think so, Sadie. ;)
Thanks again for all your help. She is such a joy! Also, you are 100% correct about her black hair. It depresses me to think that she'll lose it, I love her look so much! She's perfect in so many ways, and has added so much love to our family.
Take care, Nadia
_________________________________________________________________________
January 2015:
Hi Alicia, Happy New Year! Here's an update on Amber (8 mos on 1/13 & 15 lbs). Perfect size! Isn't she gorgeous? She's fully potty trained, loves to take walks, run, play, and give tons of kisses! She made our holidays spectacular! Santa loved her, too, and brought her lots of new toys. Yes, she's totally spoiled rotten -- the love of our lives! Wishing you continued success in 2015!
Sue
__________________________________________________________________________

January 2015:
Hi Shade Mountain! We just wanted to update you on our shichon puppy. He's a little over 1 year old now and is happy and healthy. He's the best thing that's ever happened! Thank you!
The Lee Family
__________________________________________________________________________

December 2014:
I have dealt with Shade Mountain Kennels when I purchased my puppy, Silas, he's a Puggle. I have had a bad experience in the past with a private breeder, so i read wonderful reviews about this kennel in my next search. I had two kennels to visit the day of my puppy purchase. We chose to stop to see Shade Mountain's puppies first. As I arrived, i was warmly greeted and loved the cleanliness and professionalism of the place. I was brought in by Alicia and introduced to the remaining 2 puppies, one cuter than the other, both playing together in a gated area with toys in the office. while we were getting to knwo the pups and decising, Alicia was assisting with the birth of a golden-doodle having pups and she was very attentive to both us and the dog giving birth. We were very warmed about how compassionate she was while we were there. It was so hard to choose but Alicia was very patient and accommodating. We walked the grounds to ponder. The animals were all humanely cared for and she took time to answer all of our questions. We knew after our positive experience that we werent' going to the second stop. We found our baby. When we finally chose our puppy, the process went very smoothly. Alicia explained everything to us and made sure we had all of her contact information for future questions. The male puppy was almost 9 weeks old and was already being trained by the kennel. Si has been a well behaved do gwho has been easily trained since the day I brought him home. I attribute this to the attention and care Alicia showed to those pups. The office was organized and everyone we encountered was pleasant.
I have had Si since last Oct. 2013 and Alicia has kept in touch and available if I needed assistance.
I had a great experience and love to give a recommendation .. They did a wonderful job with Si. He's been easy to train since I brought him home, well socialized everyone loves him!
-Ginger
________________________________________________________________________
October 2014:
Hello,
I purchased a chocolate/white male Cavachon puppy from your May 8th, litter. We drove down from Western NY - not sure if you remember us :) Anyway, just thought I'd drop a note to let you know our puppy has been doing great ever since we got him. He's our baby and love him dearly. During our road trip home he got sick a bit, but he did okay once we could get him settled at home. He is a very affectionate, aims to please (most of the time), and has the cute little looks to match. I can't tell you how many people stop us to tell us how cute he is and ask what kind he is - they just love how happy he gets to see people. I've been thoroughly please with this hybrid breed. He's been good on my allergies except for when he gets into dirt and dust, then I just bath him and all is good. I attached a picture I also wanted to share with you. This was the very first picture I took of our little guy (we named him Taki). It was a very quick candid photo, but it's the best photo I've ever taken of him. I've got tons of pictures, but none of the others beat this one. Could be becaus it was his first, or because I got so lucky to catch such an excellent shot.
Sincerely, Catrina
___________________________________________________________________________
October 2014:
Hello!
We bought our puggle Murphy from you on June 3, 2012. His name was "Kent" at the time. This photo is a picture of him from your website when we first saw him and just the other day in the car and with his pumpkin! He is wonderful and our lives wouldn't be the same without him! He is doing great! Thank you!
Stefanie & Sean
____________________________________________________________________________
October 31, 2013
Alana.. Remember Sammy?! His name is Bentley now.. Here are some recent pictures of him I figured I'd send. He is the best dog! People keep telling me he is the cutest shih tzu they have seen! I've been entering him into calendar contests! My whole family is in love with him! I should of gotten his sister for my mom! Hope all is well!
_____________________________________________________________________________
Sent November 27, 2013 (A Shichon Puppy) ~
My name is Bill, I purchased a puppy from shade mountain kennels, his name is Dakota, a sweet shichon puppy , he is very smart, he is house training really well, he loves to give kisses, he is a very, very happy little puppy.
This is the greatest puppy purchase I ever made. He takes his Nu- Vet vitamin everyday, just loves them. Anyone considering one of these puppy, I highly recommend it, I would purchase another puppy in the future from this kennel.


----------------------------------------------------------------------------------------------------------------------------

Sent August 2, 2013 - (A Cavachon Puppy)~

We got Zoey from you guys back in December 2010. She was born Oct 22, 2010 and you had her on the website as Isabella. I wanted to say how great she
has been for the past almost 3 years! She is healthy and energetic and one of the smartest dogs that I have ever met! She is extremely loyal and obedient and is the perfect member to our family! I just wanted to give you an update and say thanks! Also I have included a few pictures of her over the past few years. --- Matt D.

-----------------------------------------------------------------------------------------------------------------------------

Sent November 2009

Hi! I don't know if you remember me, but my husband and I bought our little Spike from you, a cute little shicon, back in January. He was born on January 1st. You were very accomodating, took the time to answer all my emails and sent me pictures of Spike as he grew, and took very good care of our baby until we could come pick him up ourselves. I put in a very good feedback for you in puppyfind.com---it was the least I could do.

I want you to know that Spike is such a blessing to our family! He is literally a bundle of joy---he is a very gentle and loving puppy, who also plays hard. When my husband is out of the coumtry (as I told you he is gone a lot), Spike licks my face whenever I cry. To us, he is not a dog, but a real baby. He plays very well with the puppies in the neighborhood, and is very popular with all the kids just because of his playful and friendly nature.

Ckaz D.
_____________________________________

Cavachon puppy from 2009:

Just wanted to send an updated picture of Chase for you. He is doing great very smart. He is now 1and 1/2. He knows the difference between all his toys and if you tell him to get a certain toy he will get it. I was looking into programs for him to go to nursing homes and children's hospital wards cuz he seems to bring alot of joy to everyone just by showing those beautiful eyes. He really is a blessing and we love him solo much and he does everything possible with us he is the mascot for my boys
baseball team lol. They love him they all pet him and let him kiss them for good luck. Thanks again for all your help and I have been telling everyone about you hopefully they have come to you. God bless and hope all family is well. Have a great summer.

Danielle B
__________________________________________________

Cavachon puppy from early 2011
Hi,
I wanted to share this photo of me and my third son.. Carson ! He has adjusted to
the California climate and has become a very loved member of our family. He
does resemble that one photo you told me about on your website with the dog
walking and looking backwards. He will be 6 months at the end of May. He has
grown quite a bit and is about 12 lbs or more now.


Thank you so much for
helping to bring him to our family. We love Carson . Since he arrived on
Valentine's Day here in San Diego .. his full name is now Carson Valentino
Phan.


Best to you and your
family.


Andrea
P.



_________________________________________________________


I just wanted to send you a quick note to let you know how wonderful Sophie is!
She is almost 100% potty trained already and sleeps through the night most
nights as well. The boys are having so much fun playing with her, and she is
such a cuddle bug! She has been such a great addition to our family.
Thanks
again!!


Hanna


Attached is a photo
from Easter Sunday…..


__________________________________________________________


Cavachon
from Feb 2011:

Hi!

Just to update you quickly: Linus has
successfully completed puppy kindergarten! He is turning out to be a very
smart little doggy.

Other than that, there isn't a whole lot to say... But we hope everything
is right with you and your family!

:) Attached are some pictures of Linus
(one is of him in a pillowcase) and of his diploma.

Hanna
_____________________________________________________________


Shichon
from April 2011

Hi,
I've been meaning to send you some pictures of Pixie for weeks! She is doing so
well. These pictures are taken at various times (after we had her hair cut,
after it grew out again and then after her summer hair cut). She is such a
sweet little dog. She rules our house now! She loves lying on the back of our
sofa. Tristan just adores her and plays with her every day. She has discovered
that toys and rawhide chewies are definitely her favorite things now. She takes
every toy out of her toybox and I spend all my time picking them up again. We
had her spayed several weeks ago and she did very well with her recovery. She
goes to bed every night at 9 pm in her large
kennel and never makes a sound until we let her out the next morning. She has
been such a joy to have and we feel so fortunate to have her in our family. She
is not much of a lap dog but loves to lay on our bed at night with her chewies
while we watch TV until we all go to bed. I hope you are all doing well. Take
care and I'll send pictures often.
Susan B - Texas


____________________________________________________________



Lab -
03/28/2010

Sorry, it has taken so long to send any pictures of Sara Sierra (born
10/4/09). The first one was taken shortly after she arrived home. The second
one was taken on New Year's eve. We tried to get her to wear a costume, but
she wasn't happy with it. The last two are more recent and you can see how
much she's grown. She has graduated from Puppy Kindergarten and is a really
good and loving dog. Hope you enjoy seeing the few pictures.
Regards,
Eileen & Walter
--------------------------------------------------------------------------------------------------------------------------------------------------------------------------------------

Cavachon -
04/05/2010

I just thought that I would let you know
that my daughter Nikki was very excited to see her Christmas Puppy. She named
him snuggles and he has became her best friend. She has been taking very good
care of him, and he really wasn't too difficult to house break. He is like a
new baby to our household. We love him dearly.

Debbi
--------------------------------------------------------------------------------------------------------------------------------------------------------------------------------------


Cavachon -
04/07/2010

Hi,
Thank
you so much for giving us such an amazing addition to our family. Destiny has
brought us so much happiness and we absolutely adore her. Today, was her first
vet appt. with us, she did wonderfully and the vet said that she was in perfect
health. She is a brilliant puppy and has found a way to squeeze through the
gate across the kitchen numerous times lol. She loves to cuddle, especially
with Frankie on his little recliner, and will lay there for 2-3 hours at a time
if we let her. She is getting closer and closer to being housebroken,
yesterday she rang the bells on the door twice to go out! She has just
recently mastered walking on a leash, it was difficult for her at first, but
now she is doing great.
I am very impressed with how easy it is to
care for her, she sits for bath time, brushings, and lays to get the hair
around her eyes trimmed. She has recently learned to sit on command. Like I
said, you have given us an amazing little puppy, and we will continue to give
you updates. If you ever need anyone to provide a reference please let us
know. Here on some pics we recently took.

Thanks
Again!
Jessica
--------------------------------------------------------------------------------------------------------------------------------------------------------------------------------------

Shichon -
03/27/2010

Scott and Lacie love that little dog. They haven't picked a name yet. I got to puppy sit
her this afternoon. she is absolutely precious!! So playful, lovable, and
cuddly. Thank you for raising such an adorable puppy!! take care, Linda

--------------------------------------------------------------------------------------------------------------------------------------------------------------------------------------


Shichon -
03/14/2010

Just thought I would send you an updated photo
of Milo(Dakota). Don't know if you remember me or not, but I was the one who
drove from NC in the middle of the snow storm just before Christmas this past
year. You said to email a picture now and then as you are interested in how
their coat changes. Milo's hasn't changed much except around the eyes, as the
brown has faded.

Milo has been such a wonderful addition to our
family and has the best temperment anyone could ever ask for. He is very
tolerant of our children who are always carrying him around and is quite
content to just sit in our laps. My wife is jealous of the bond Milo and I
have developed and has been looking on your website to see if there are any
cute girl puppies available....while we both agree one dog is enough she has
been very tempted to get a girl puppy to call her own.

Thank you again for giving us such a wonderful
dog.

Jason
--------------------------------------------------------------------------------------------------------------------------------------------------------------------------------------


Shichon -
03/06/2010:


I recently recommended a friend your way, who is now about to get one of
your new puppies, and it reminded me that I still haven't sent an update. We
got Mia (your Tammy) back in November and she's been a joy! She's already got
the housetraining down 100% (she rings a bell on the door when she needs to go
out) and she is absolutely amazing around people! I can't thank you enough for
how helpful you were for us. This was our first dog and you made everything so
easy for us. Seeing Mia go nuts every time we get home from work is by far the
best part of our day!
I've attached a few pictures for you. One before her first trip to the
groomer and one after. If you ask me, I can't wait for her hair to grow
back!
Thanks so much,
Matt
--------------------------------------------------------------------------------------------------------------------------------------------------------------------------------------

Shichon -
10/01/2009:
Hi,

I wanted to give you an update on Levi and to also send some pictures of him.



Levi is doing well...Megan is loving him so much....he was definately the
puppy that we were meant to have!! He follows Megan everywhere. In the
mornings after taking him out, he will run straight to Megan's room to see if
she is awake. We are having some problems with seperation anxiety with him
when my husband and I leave for work as well as Megan going to school. One of
his favorite places to sleep is on a plastic container that we bought to hold
all of his toys.


Thank you, take care and God Bless!


Brenda


--------------------------------------------------------------------------------------------------------------------------------------------------------------------------------------


Shichon - 09/03/2009


Hi-

I've been meaning to send some pictures but
time has gotten away from me! Snookums has been wonderful and we all love her
to death! She loves everybody and has a great personality. She can do basic
stuff like sit and down, runs after balls, stands up on her hind legs. She's
not too good about "stay" when she's in the mood to run! She's been groomed
twice and is so cute afterwards. Last time she went to the vet she weighed
about 5 pds. 12 oz! It's hard to believe she was so little only 8 months ago.


Thanks for helping us get
Snookums!

Holly
---------------------------------------------------------------------------------------------------------------------------------------------------------------------------------------------------------------------------------------------------------------------------------------------------------
Hello,
We purchased a golden retriever female puppy from your Dec 15 2006 litter.
I just wanted to tell you how well she is doing. She is truly apart of our
family. She is so smart and well behaved. She can do over 15 different tricks.
She lives to please us and is a second mother to our infant daughter.
Thankyou
Brent and Breeana R.

-----------------------------------------------------------------------


Hi,


Just thought it was about time i gave you an update on how Molly &
bailey are doing. They are doing great, but just like little kids they are into
everything. They love to dig and are inseparable. Everyone who sees them, loves
them and asks what they are and where we got them. How about this picture,
aren't they adorable little devils?
I'll keep You updated from time to
time.


Joe
C.

------------------------------------------------------------------------------------------------------------

An email sent
on July 17th, 2007:


Hi, I'm
just updating you on the puppy you sold me. Petey is a wonderful, wonderful
dog. He's six months old now and he is a complete joy. Petey is my little
buddy and he rarely leaves my side, we go every where together. I had no
trouble at all house breaking him, I would say he was 90% housebroken at four
months and completely housebroken at five months old. He is great with kids
and adults alike, and he fears nothing! He loves going to the park with me and
loves playing with my friend's boxer Gracie. I would just like to thank you
again for bringing him into my life, he is my little buddy and I can't imagine
a day without him. I'm sorry I don't have any pictures but he is getting much
bigger! The last weigh in he had at the vet he was ten pounds. Thanks again,
if you need me to leave feedback on a website or anything please let me know.
Thanks again!

Denny and Petey

----------------------------------------------------------------------
Email sent on
June 30, 2007


Good morning. Hope all is well. As promised
and late, a couple of pictures of Tucker. One is with the kids when we
returned home from picking him up. The second is just a couple of days ago.
He has been great and has been a wonderful addition to the family. Hope all is
well and will talk to you soon. PS he loves his toys and chasing things around
the house, also we know when he is in trouble by the loud sounds of his paws
hitting the floor when he runs away. Usually when he gets the kids
socks.
Joe
-------------------------------------------------------------------------
Email sent on
June 29, 2007


I just
wanted to send you a picture to show you how Bailey is doing. He's a
great
addition to our family and is always excited to meet new people. He
also
gets along with his Bassett Hound "brother", Rufus, very well. Bailey
is
still the instigator you said he was, he's always starting the game of

chase or tug of war.

Thanks again
for our friend,
Dawn & Brian Grose

-----------------------------------------------------------------------
Email sent on
June 27, 2007

They are both doing wonderfully! It was a fun car ride home. They were so
cute together in the car, sleeping on top of each other and then doing
tug-of-war on the toys. The larger one is named Bocci and he has had a house
full of people to entertain him over the last few days. He's starting to get
the hang of going outside, but doesn't like crossing the street yet.
Ours, Palermo - or Mo for short, has been just wonderful. He has only had
a couple of accidents in the house and has been extremely happy and playful.
Everyone raves about how beautiful he is! I have included some pictures of the
200 we have taken so far :)
We cannot thank you enough and I will definitely keep you updated with
pictures. By the way he was only 10 lbs. at his first vet appointment.
Thanks!
Angela
-------------------------------------------------------------------

Hi,

I was looking at your website recently to see what puppies you had and saw the pictures of your dogs sent in
from their new owners. I just wanted to send you a picture of Lily (we got her
from the May 2006 litter of Golden Retrievers). She is an excellent dog. She
was house trained within a matter of weeks. She's excellent with younger
children and loves everyone! She's extremely loving and friendly. She's about
70 pounds and she's like a bull. She's very strong and muscular. We've
thoroughly enjoyed her and she's become a very important member of our family.


Ellyn Ide
Tunkhannock, PA
-----------------------------------------------------------------------

Hi,

Just want to
send you a quick update on Balto. He is doing great. He has really settled in
and has definitely become part of our family. His health is good and he is
being a very normal active pup. He is growing fast and has gained a few pounds
since you last saw him. His appetite was always good and it shows. Anyway I
don't want to take up too much of your time but as I promised I attached some
new photos to this email for you and your family. As you will see Balto and our
son Anthony have become quite a twosome and he is well loved by all of us.
Thanks again and enjoy the pics.

Sincerely,
The
Bianks
-------------------------------------------

Hi,
I just wanted to let
you know that I posted I review for you on puppyfind.com. Maggie is doing
fabulous!!!!!!!!! I don't think there is one person that won't fall in love
with her when they meet her. She is so smart. I can't believe that in just
one week I was already able to teach her come, sit and as far as house training
goes she is a dream. By night 3 she was sleeping through the night. She and I
enjoy early morning and late evening walks together and she is doing great on a
leash. I couldn't be happier with how this experience has turned out. I just
wanted to let you know that if you ever need to use us as a referral feel free.
I have at least one person a day ask me where we got her from. Thank you for
all of your help.
Amy M. and Family
----------------------------------------------------

Thought you might enjoy this one..."kid's
naptime".
Daisy and Duke are doing great! They are growing so quickly. We
love them so much. They adore Stephanie, as you can see. They are best buds -
the 3 Musketeers! I just didn't think two puppies would be so...so
crazy!!!!!!!!!!!!!!! They got the potty thing pretty good. They have really
adjusted well to their new home, and I am sure they know they are loved and are
with us for the long road. They will be going on their first camping trip the
first weekend in June. I am sure they will love it. We are going to
Gettysburg. We will keep in touch, and send you pictures from time to time.
Thank you for helping to fill a hole in our hearts. We were blessed to have
such a wonderful companion in the past ~ now we have two~
~Donna
-------------------------------------------
A lab puppy sold in spring
2005~


We are having a great
time with our puppy! She has a great demeanor and is very sweet. We are
seeing our vet on Wed. Could you please reply to this email with the info on
the what Heart Worm med you have used? It wuld be great if I could bring that
to the vet on Wed. Thanks.
Brant & Jen
McAleer

------------------------------------------
Another lab puppy sold spring
2005 ~

Hi,

Forrest is doing
great. I could not remember if he had his worm shots. I thought i read that
he did, if not then i need to get him there asap. His first appointment went
great. EVERYONE was telling me how adorable he was.

Last Sunday we
took him swimming for the first time. What a great time he had, he slept the
rest of the day. Unfortunately Forest has not seen his brother Augusta. Too
funny they also named their dog after someone in a movie. I never saw willy
wonka and the chocolate factory, but Tom tells me it's the boy who falls in the
chocolate. How cute. Hopefully very soon we will be able to get them
together.

Forrest has NEVER gone poopy in the house, peepee is another
story though. I know that will come in time. When i get some more pictures i
will send from his swimming experince.

Again thanks for such a beautiful
dog.

Lori
----------------------------------------------------



Hi,
This is Amy M. I just wanted to give you an
update on our Maggie. It has been a little over 4 months since we got her from
you and we couldn't be happier. We had a planned vacation this past July and
we couldn't believe how much we missed her and couldn't wait to get back home.
My sister and her family took care of her for us and her children who are
normally extremely afraid of animals did not want to give her back to us. They
love her now and when they are at my house give her hugs and kisses all the
time. Because of Maggie my sisters family, which normally prefer Labs., have
decided that their next dog will most likely be a golden. We all check your
website and puppyfind.com regularly. Maggie and I take 1 1/2 mile walks in the
morning and night and I get more compliments on what a beautiful dog she is
everyday. Her obedience training has been great. The only thing we need to
work on is greeting other dogs because all she wants to do is play and tends to
jump all over them no matter what their size. She thinks she is a lap dog and
loves to sit on your lap when possible. We only need to crate her now when we
are not home. I was told by our vet that usually most people after they get a
golden get another one. I thought she was crazy when she said that, however, I
have been trying to talk my husband into coming to you for another one once we
are completely done with the crate for Maggie. I won't have to do too much
pleading because the man who generally doesn't get mushy with our other pets
has been seen giving Maggie many hugs and kisses. Well that is my update. And
I Thank you so much for helping me pick what I like to refer to as my 3rd
child!
Amy M.
---------------------------------------------------------------------------


Hi, We just wanted to take a minute to thank you & your husband for an
absolutely wonderful puppy! Diesel is so well behaved & loving for being so
young...no one can believe it! He is close to being house trained & is so
great with our kids. He is very healthy & seems to love it here. This is
our 1st dog so we had lots of questions. Both of you were terrific & we
have recommended you to several of our friends. Thanks again & if any of
your potential buyers need references feel free to call us. Thanks again, The
Himmelbergers
--------------------------------------------------


(A puppy from Barney's July 1, 2006
litter)



Hi. Tomorrow will be a week already w/ our new
baby Kali. She is so gentle and calm. She really sparks up when she
see's kids. She loves them. She sticks to me like glue. I have been taking
her w/ me in the car a couple times so that she is not home alone. Today I let
her sit in the front seat w/ me and layed a blanket there and she loved it. I
am going to do that from now on because she doesn't jump around from seat to
seat. She is just so mellow. She fetches a ball already and sits most of the
time when I tell her. She comes usually when I call her or clap my hands. And
best of all(I don't want to JINX myself she for the most part seems house
trained! She hasn't had one accident yet. She cries to go out when in her
crate and has to go the bathroom and yesterday she just walked to the door and
stood. I am amazed.


I also got her signed up for puppy school. It
starts in 2 weeks.

She is beautiful. I will send you a couple
photo's.
Kris R.
--------------------------------------------------------------------------------------------------------------------------


---------------------------------------------------------------------------------------------------------------------------------------------

Sent October 2009:
Hi,

It might have been my idea to get a puppy but my husband is
totally
hooked on Bobby. He is growing so fast and seems to love
his
surroundings. He is very playful and as soon as he is housebroken
I
will say he is absolutely perfect.

Our vet actually never treated a
Cavashon. She said it will be
interesting to watch him grow
up.

Thanks again! We'll keep you posted as Bobby grows up.

Linda
R
-----------------------------------------------------------------------------------------------------------------------------
Sent October 2009:
Greetings,

Everything is going well with our little girl, Lambert. We couldn't be
happier. She's seriously one of the smartest labs I've had. She plays with the
ball every chance she gets, loves to play fetch, and has learned lots of tricks
very very early on. She's also incredibly strong as we go for a 2 mile walk
every night. We couldn't have asked for better. We figured we would send a
couple pictures of Lambert. These are from about 17 or 18 weeks. She's 21 weeks
now and already 46 lbs. I think she's going to be tall and very muscular.


Have a great weekend,

Meredith and Terry B
----------------------------------------------------------------------------------------------------------------
Sent October 2009:

Hi


I wanted to give you an update on Levi and to also send some pictures of him.



Levi is doing well...Megan is loving him so much....he was definately the
puppy that we were meant to have!! He follows Megan everywhere. In the
mornings after taking him out, he will run straight to Megan's room to see if
she is awake. We are having some problems with seperation anxiety with him
when my husband and I leave for work as well as Megan going to school. One of
his favorite places to sleep is on a plastic container that we bought to hold
all of his toys.


Thank you, take care and God Bless!


Brenda


-----------------------------------------------------------------------------------------------------------------------------


Sent September 2009:





Hi-

I've been meaning to send some pictures but
time has gotten away from me! Snookums has been wonderful and we all love her
to death! She loves everybody and has a great personality. She can do basic
stuff like sit and down, runs after balls, stands up on her hind legs. She's
not too good about "stay" when she's in the mood to run! She's been groomed
twice and is so cute afterwards. Last time she went to the vet she weighed
about 5 pds. 12 oz! It's hard to believe she was so little only 8 months ago.


Thanks for helping us get
Snookums!

Holly
F